I think its almost irrefutable but the first North East England VMware User Group of 2109 held on the 7th of feb has not only the best line up its had but perhaps one of the best line ups from a regional VMUG ever. My opinion obviously, but just look below.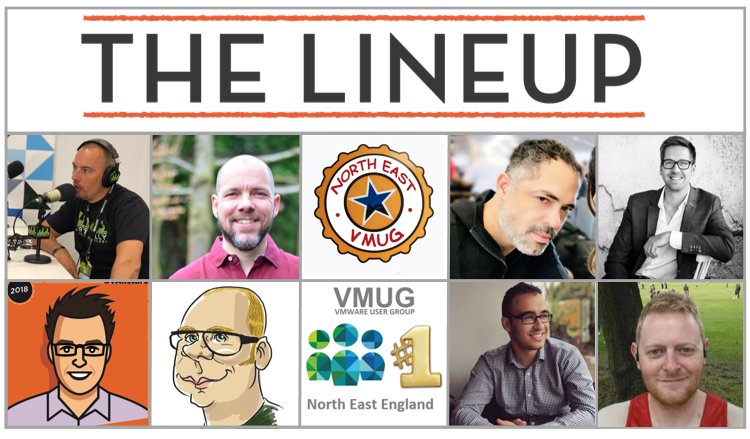 My fellow NEVMUG leader Alan Burns has done a great job describing the agenda here so I'm not going to spell it out for you but having Duncan Epping, Frank Denneman, Rawlinson Rivera, Kev JohnsonKev Johnson, Chris Lewis, Gareth Edwards, Jorge de la CruzJorge de la Cruz and Gijsbert Janssen van Doorn is just amazing!!
I think we have a great mix of community, sponsor, and 'celebrity' VMware speakers that wont only give you great opportunity to learn but also give you a chance to get some books signed and some selfies.
PLEASE REGISTER TODAY
I know us VMUG leaders always seem to be promoting and asking for you to register when the reality is you could leave registration to the last min or even just rock up on the day. We love people who just turn up, but, registration really helps us out.
It may seem simple, but all VMUG leadership teams sacrifice time and effort to make these events happen. Including everything from seating, food, drinks, sponsors, session planning etc etc etc needs doing for every event.
By registering you really help us out because it allows us to make sure all the preparations are in place for the right number of people. i.e. if the NEVMUG got more that 120 folks wanting to come we would have to switch venue. Or if we had a low turn out we could use the money we would have spent on food, seating etc on more prizes or for a future event.
So PLEASE register today if you think there is a possibility in you coming along.
I look forward to seeing you there on the 7th.